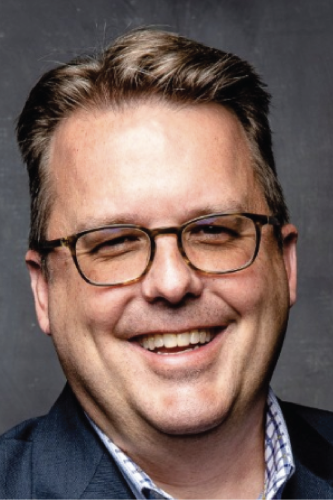 Donovan Guin '23
General Manager, North America, Rezolve Mobile Commerce
Why did you choose this Master's program?
I was looking for something beyond the standard MBA – something that could connect the role of technology with leading a successful program that makes a positive impact.At the same time, I needed something that would help me grow into the next level of leadership, and beyond, as I transition to the next phase of my career. The program seemed to have all three – technology, business and leadership – in a school that has a focus on making a positive impact on the world.
What made Brown's program different from other programs you considered?
Most of the programs I looked at were MBA programs, that did not connect the dots with technology. Yet technology has been the transformative element to business growth, which in turn has left lasting impacts on the world, for better or worse. Brown's was the only program I could find that linked these three things together, with leadership development at the core.
What did you enjoy most about your program?
I love the interactions with my fellow students. They are such a diverse group, at different levels of their careers, and from different backgrounds. Their perspectives have helped me expand on the core learning in the program, to see how those ideas apply to different situations, different people and different programs.

What was your primary academic area of interest?
I am particularly interested in how you take an idea and bring it to market. We look at successful business today, and at some point they were just an idea that someone had. How did the founders get that idea out there and make it successful? As the pace of change continues to accelerate, it seems these skills will be even more valuable going forward.

What were your postgraduate goals?
Assuming you mean my goals after I graduate from this program, I'd like my career to shift to being an entrepreneur. I'd also like to be able to help other people with good ideas, to develop them and bring them to market.
What did you like most about Providence?
I grew up in the area, and fell in love with the city as soon as I could spend more time there in high school. It has many things that you want in a larger city, but at a human, smaller scale. At the same time, you are very close both to Boston and New York, so it's easy to stay connected to those communities. With Brown and the other colleges, there is a great vibe, with lots of smart people from diverse backgrounds. And, of course, I can't fail to mention all the great restaurants, and all the fun you can have down in and around Narraganset Bay.
What advice would you give to prospective applicants?
At it's core, this is a leadership development program. That means that you'll have to invest energy in exploring what the teachings mean for you. It's less about facts and figures, and more about your own growth, using the new knowledge as a starting point. If you approach the program from that perspective, you'll get more out of it.