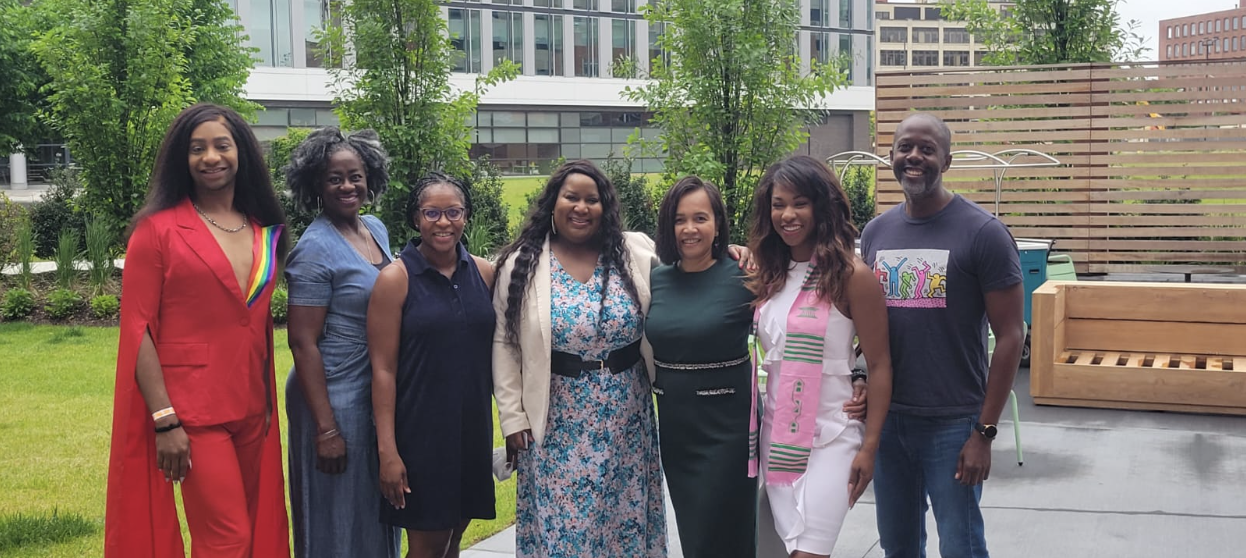 PROVIDENCE, RI [Brown University] — In 2020, a series of violent events in the U.S. and the subsequent reaction, triggered a heightened awareness across the country to the real and pervasive systemic racism experienced by Black people in the U.S.
Against the backdrop of this sweeping movement, the School of Professional Studies (SPS) at Brown embarked on a critical initiative to enhance the experience of Black applicants, students and alumni at the School. In August, seven dedicated SPS alumni were selected by their peers and administration to create the Advisory Council to Eliminate Anti-Black Racism (ACEABR). 
"The committee was formed following the tragic death of George Floyd and so many others. The reason I decided to join the Council was simple. I hoped to achieve change, however incremental," VP-General Counsel at El Paso Electric Company and inaugural Council member Cynthia Henry remarked.
The original Council included:
Jacqueline Ejuwa '17 Executive Master of Healthcare Leadership
Cynthia Henry '91, '17 IE Brown Executive Master of Business Administration  (through January 2022)
Lauren Johnson, Vice-Chair, '20 IE Brown Executive Master of Business Administration 
Gigi Palma '20 Executive Master of Science in Technology Leadership 
Talya Parker '19 Executive Master of Cybersecurity (through February 2021)
Ace Robinson, Chair, '19 Executive Master of Healthcare Leadership 
Shircara Stewart, Secretary, '20 Executive Master of Science in Technology Leadership
Bee Davis '20 Executive Master of Cybersecurity (beginning April 2021)
Three years and several achievements later, many of the original Council members have stepped down to make room for new representatives.
Vice President, Health Transformation at Blue Shield of California and Council member Jacqueline Ejuwa noted, "I am so proud of the work that this Council has accomplished. We developed a charter, vision, operating principles and delivered a comprehensive plan which the School is making progress on implementing."
Other noteworthy accomplishments of the Council include:
Creating a scholarship fund for students facing financial crises
Increasing visiting faculty who focus on issues impacting the Black community as well as advisors for the Critical Challenge Project
Launching a Certificate in Applied DEI Strategies, led by Jarvis Sam, '22 IE Brown Executive Master of Business Administration 
Implementing curricular revisions to incorporate more content such as DEI, health equity, and racial bias
Raising awareness of Black alumni through stories published on Brown's website
Providing staff professional development training in cultural humility and social identity 
"It was my intent for us to bring sustained attention to the Black student experience, and ensure their voices were heard. I am proud to say we have created pathways for not only listening but truly hearing from Black students and alumni about their successes, and their challenges," said Council Chair Ace Robinson, CEO of the PCAF (formerly known as Pierce County AIDS Foundation) in Washington State.
But the accomplishments of the Council have gone far beyond just the tangible. During their three-year term, many Council members remarked on the invaluable relationships they formed with one another. 
"I was truly surprised by how much of an emotional connection I formed with my fellow committee members. We started during the pandemic and during the aftermath of significant tragedies that profoundly affected each of our psyches," notes Cynthia Henry. "Together, we were able to bond and heal together. This committee gave us a greater purpose and hope that we could effect change for those who come after us."