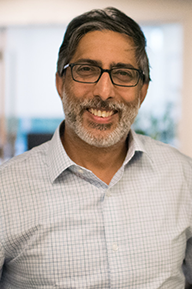 Nikhil Bhojwani
Founder and Managing Partner, Recon Strategy
Nikhil Bhojwani is the founder and a Managing Partner of Recon Strategy, a consulting firm that since 2010 has worked with leaders at prominent healthcare organizations on questions relating to vision and strategy. Clients include major health systems, payers, biopharma, medtech, and digital health companies. Besides serving some of the largest names in healthcare, the firm sets aside a quarter of its resources to support startups and small non-profits.
Nikhil is on the Boston board of TiE, the world's largest network of entrepreneurs and a startup mentor. He is also an investor in and a board member at several startup companies, a frequent guest speaker at business and healthcare programs, and an occasional commentator on healthcare strategy and policy.
Prior to founding Recon, Nikhil spent several years at The Boston Consulting Group, where he worked on strategy, organization, and operational topics for healthcare companies in the US and Europe and was a member of the firm's Career Development Committee.
Nikhil started his career in the publishing and media world in India. He worked at the Times of India Group and then in crisis management, helping build the largest PR firm in South Asia. During this time he also co-authored an award-winning book, wrote a monthly column for a leading newspaper, and developed and taught semester-long courses at two business schools.
Nikhil has a Bachelor of Science with a major in Mathematics from St. Stephen's College, Delhi University, and an MBA from The Wharton School, University of Pennsylvania, both with honors.