Brown University welcomes thousands of outstanding students a year, accomplished for their work in and out of the classroom.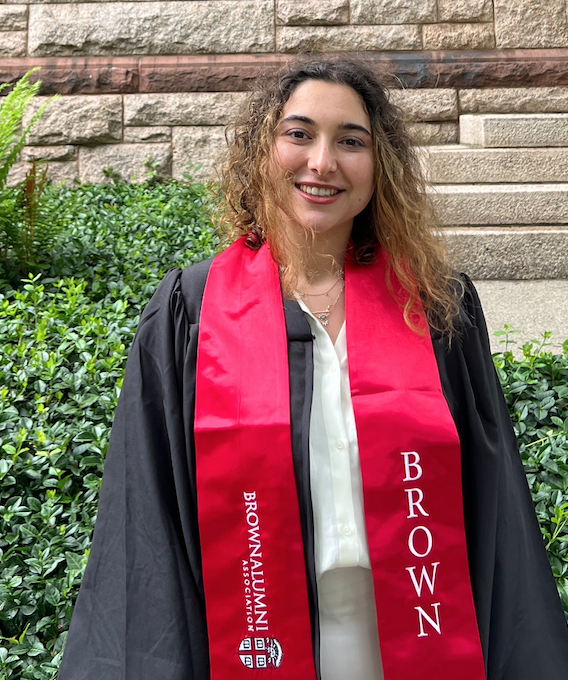 This year, in recognition of her contributions to the department, the University and the field, Ilayda Top Sc.B'20, Sc.M'23 in Biotechnology has been awarded the 2023 Brown Outstanding Academic Accomplishment Award.
Top graduated from Brown with honors in 2020, earning a Sc.B in neuroscience. She returned to her alma mater in 2022 to pursue a Sc.M. in Biotechnology. Her thesis advisor, Associate Professor of Medical Science and Engineering, Diane Hoffman-Kim notes, "I have known Ilayda since 2018 and had the pleasure of being her research advisor for her neuroscience honors thesis. We were all very excited when Ilayda returned to Brown for her master's work to focus on a very important area."
Top's area of research is ischemic brain injury, which occurs when there is disruption of blood flow to the brain, such as in stroke or severe traumatic brain injury. Despite decades of research, there are few therapeutic options for patients. Using a 3D brain microtissue model, Top and Hoffman-Kim et al. developed a brain ischemia model, which replicated many of the features of ischemic brain injury. Their promising findings were recently published in the journal, In vitro models. 

During a critical time to bring the study to completion, Top stepped up without hesitation to lead the manuscript revision process for the ischemia model in place of the first author who was on leave. As she took on this elevated role, Top stood out for her thorough literature review, high quality results presentation and analyses and thoughtful discussion. According to Hoffman-Kim, she "worked like an advanced PhD student, designing experiments, learning rapidly how to lead a team, showing high-level organizational skills, generating key data, troubleshooting and meeting deadlines."
Throughout her time in the biotechnology master's program, Top has authored four publications, with two already published and two in the final stages of preparation. She is an accomplished scientist with publications, abstracts, and conference proceedings, as well as a teacher and an engaged citizen. Not only has she succeeded academically, but she has been an amazing ambassador and member of the Brown graduate community.