Project recognized for global impact at 2022 BrownIE Awards
Three IE Brown Executive MBA alumni honored for their work to improve global financial literacy for India's next generation.
On a beautiful fall day last October, Chandini Begum, EMBA '21 opened her laptop while working in her London office to find an email from Brown University and IE Business School. The subject line read "BrownIE Awards 2022 Call for Submissions." Intrigued, she scanned through the requirements for entry. Impact on our world? Innovation in thinking? Implementation plan? Incarnation of the IE Brown Executive MBA program? Check, check, check, check, she thought. Chandini immediately forwarded the email to her former classmates, James Lamont, EMBA '21 (also in London) and Liz Ziegler, EMBA '21 (in Boston).
A Connection Made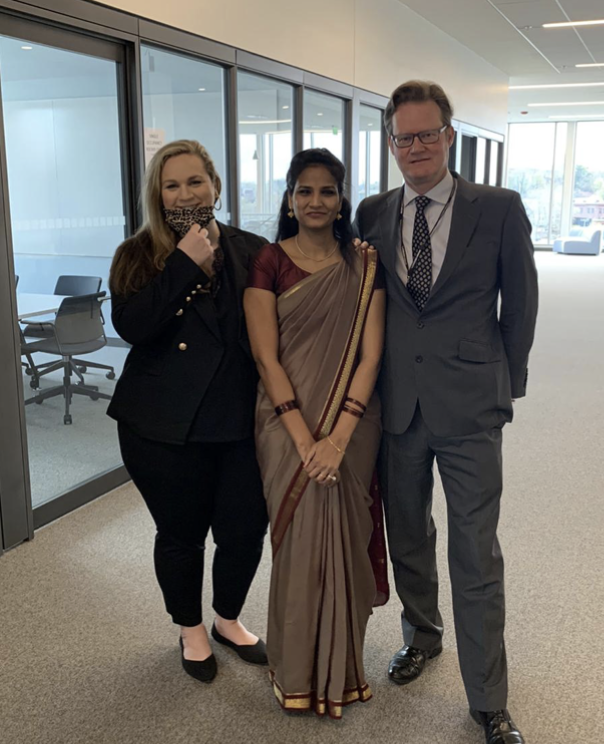 Two years prior, Chandini, Lamont, and Ziegler began their 15-month EMBA journey with Brown University and IE Business School in Madrid. Each student arrived eager with their own ambitions: one motivated to discover the next steps for her career growth, another craved more purpose after a tumultuous few years, and the last sought a global program that looked at business and its impact from the broadest perspective possible.
A short time into the program, that class was encouraged to begin thinking about partners for their Key Reflection Project (KRP), a culminating capstone project where students integrate and apply the knowledge acquired during the program in order to examine an idea or solve a challenging problem that is within their area of influence or personal interest.
Perhaps it was fate, or an affinity for those with complementary interests and expertise that brought Chandini, Lamont, and Ziegler together to form a group for the KRP. Respectively, the trio included a FinTech Program Manager from India, a finance executive, and a board director of a leading global media organization. Given their backgrounds, it did not take long for the group to formulate a measurable project plan that was not too ambitious in scale nor too generic in approach: improving global financial literacy for India's next generation. 
Over the next year, Chandini, Lamont and Ziegler were in constant communication with one another, over zoom and in person, developing their goals, processes and outcomes of the KRP. They worked closely with five universities in India to initially measure financial literacy amongst a group of 300 18–24-year-olds.
"The outcome of the first test was that this group was mathematically proficient but financial literacy competencies weren't," noted Chandini.
Educational materials, repurposed from Financial Times (FT), were then distributed to these same individuals with directions to complete the learning modules, of which 74% participated. A post learning survey revealed that 64% of the participants said they felt like their financial literacy improved. 
The outcomes of the KRP were an overwhelming success. Not only did the intervention yield positive outcomes for the learners, but it confirmed that the group's objectives and process were correct.
"What made our KRP so rewarding was that we were able to gather real data and see a significant improvement in the students' learning," remarked Lamont. He continued, "Amongst  the three of us, we had very complementary skills. It was a huge benefit that Chandini was able to provide greater access to the Indian universities and the pilot group of students."
During the months following the first phase of the project, the FT implemented this initiative to improve financial literacy in select countries. Further, the global media company launched a financial literacy charity (FLIC). Lamont is closely involved with this initiative, directly managing FT Schools which provides free content to 16-19-year-olds worldwide at 4,300 schools to help with their educational outcomes. Also, the group meets regularly to assess how they can continue to be supportive in this endeavor.
Recognized for Impact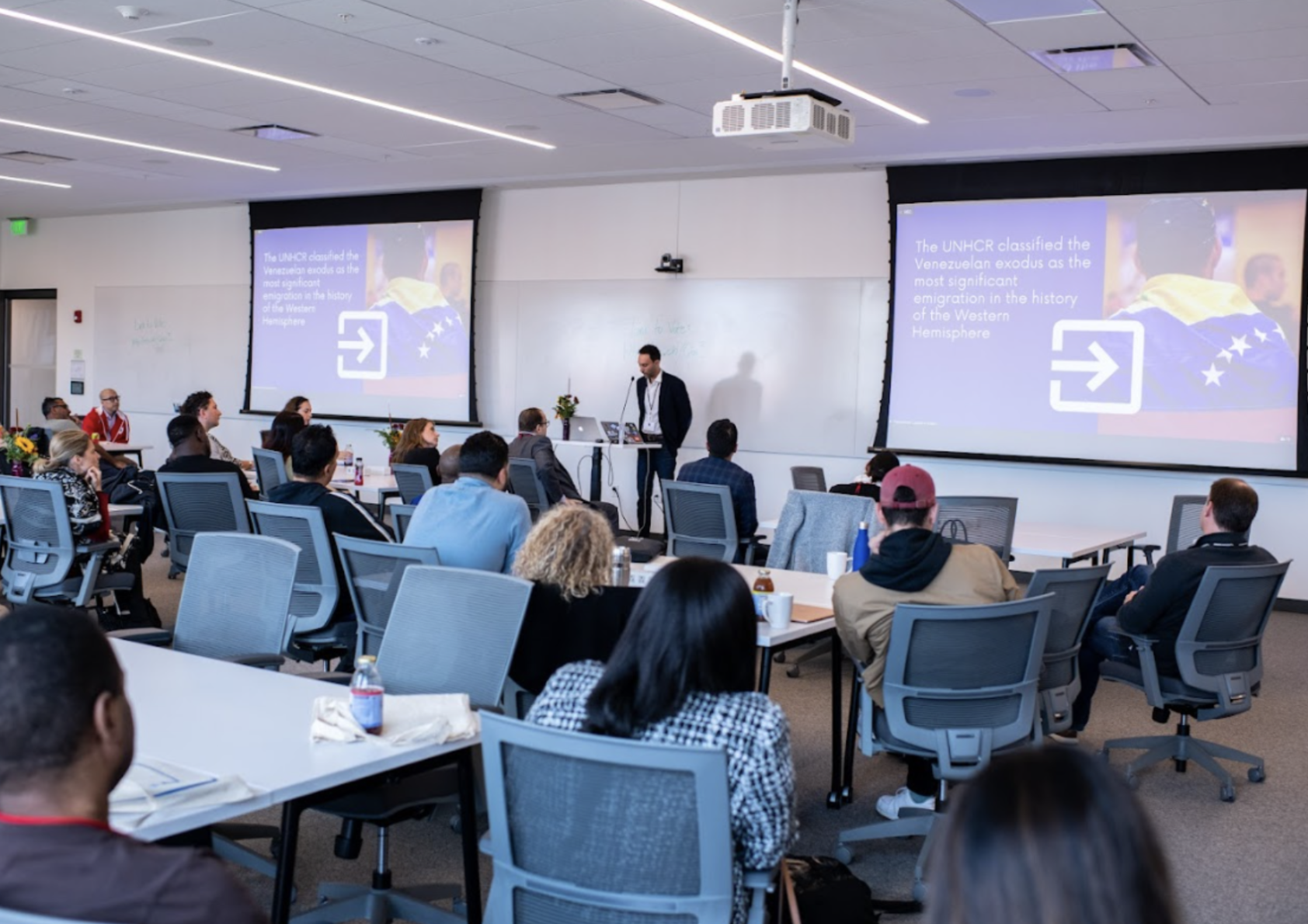 The BrownIE award is an alumni-led award recognizing outstanding KRPs. It originated from the deep passion of Anthony Giordano, Florian Endter and Paul Somers (all EMBA '17) to both recognize fellow alums and encourage them to live out the vision of the program — to use the lessons learned to make a positive impact on the world.
Somers remarked, "We wanted to create an award that energized the IE Brown alumni community to continue shifting from 'academic' to 'real world' recognizing the importance of the interconnectedness of empirical rigor with making change happen."
The award is typically presented at an alumni reunion for the EMBA program. Those in attendance (in-person and virtual) are presented with the submitted capstone projects and then asked to vote upon them based on 4 criteria:
Impact on the world
Innovation in thinking
Implementation plan
Incarnation of IE Brown
Brendan McNally, Brown's program director for the EMBA program is greatly inspired by the BrownIE awards and what they represent to the two universities, students, and alumni. 
The First Awards
The first BrownIE Awards ceremony was held in 2020, during the height of the Covid-19 crisis. Giordano, Endter and Somers decided they would not let the pandemic hinder progress particularly given their interest in all items remote.
Getting creative, they turned the award ceremony into not "just another virtual event" but a showcase of outstanding musical talent (e.g. the ceremony featured the exemplary virtuoso, Lauren Henderson, alumni of the IE Brown EMBA) and the incredible expertise of everyone who was an applicant to the inaugural award.
Leading up to the event, 10 teams submitted entries, of which six went on to present virtually during the alumni reunion.
There were two winners, one chosen by judges and one by audience vote based on the four criteria of the award. The winners were:
Judges Vote:

People's Choice: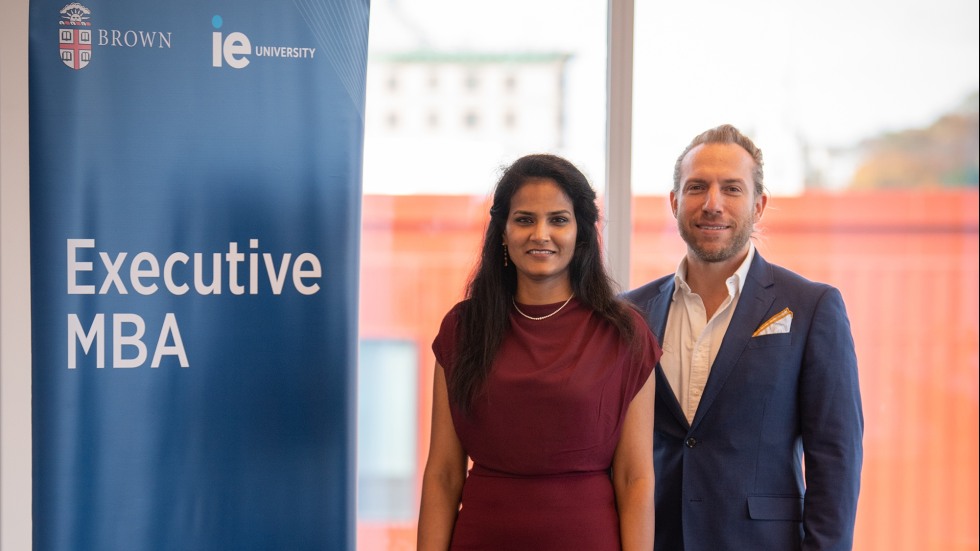 A Tradition Continued
The 2022 alumni reunion was held in November at Brown University, and welcomed around 50 participants from around the world. Giordano, Endter and Somers once again took the lead on spearheading the submissions and ceremony.
During the main day of programming, four alumni teams took the stage to present their KRPs to a room filled with alumni, faculty, staff and prospective students. Aiming for maximum inclusion, some presentations were delivered in person and others were delivered remotely.
The capstone projects represented a wide range of initiatives from maximizing the profits of Philippine coffee farmers to creating business and societal value for migrants-turned-gig workers in South America. The power of the projects and intellectual curiosity of the audience were on full display as all presentations extended into discussions and insightful advice. These conversations continued beyond the awards segment with follow up connections to help the projects progress. 
In the end, all four KRPs were recognized— three for Best Business Impact and one for Best Societal Impact (the project developed by Chandini Begum, James Lamont, and Liz Ziegler).
Best Societal Impact:

Best Business Impact (three way tie in votes):
Upon reflecting on this recognition, Chandini remarked, "Winning this award confirms our group was thinking in the right direction. Impact to society can be brought in small deeds."
The KRP is a critical part of the curriculum in the IE Brown Executive MBA program. It enables students the opportunity to put their lessons learned into action, encourages them to think about impact on a local or global scale, and also fosters relationships that extend beyond the end of the program. "These people are my family," remarks Chandini. "We know about each other's families, check in over the holidays, and go to one another for personal and professional advice."
Looking Towards the Future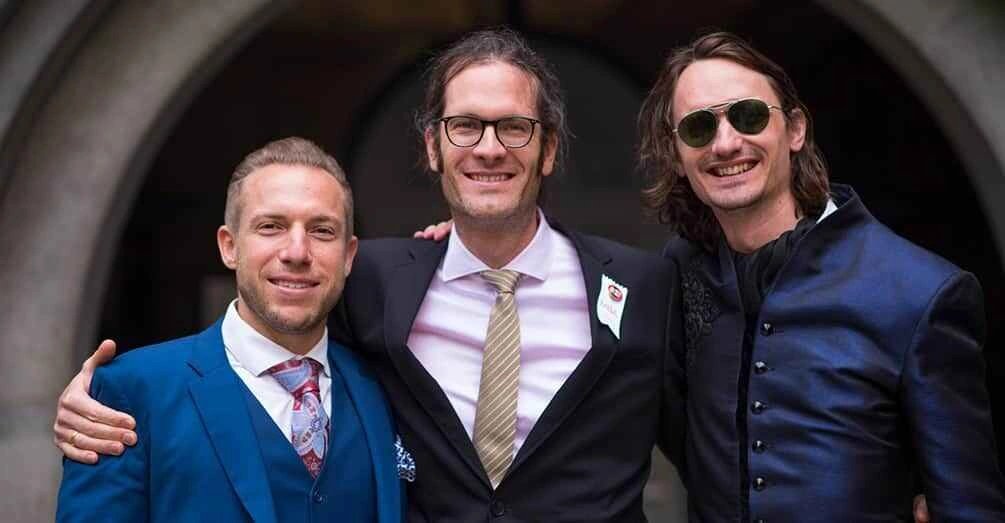 Giordano, Endter and Somers are pleased to have helped launch this initiative and will continue to be a critical part of the legacy of the BrownIE Awards. "We look forward to continuing the tradition of the BrownIE Awards and growing its impact in the years to come," said Endter. Giordano and Somers confirm, "The IE Brown EMBA is uniquely positioned to shape society and business for the future and so too are the alumni group and others in the community who aspire to reconcile the two." 
The next BrownIE awards will likely take place in Madrid at IE University in 2024.
IE Brown Executive MBA
A unique program designed for working executives, Brown's partnership with IE Business School offers students a globally ranked and triple-certified Executive MBA.
Learn More