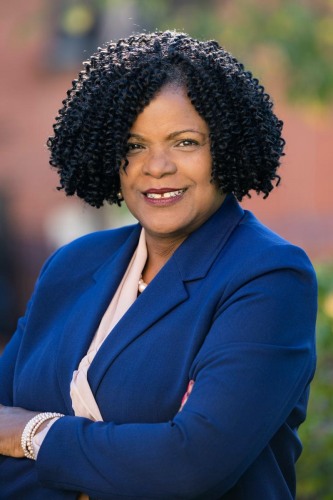 Sylvia R. Carey-Butler
Program Contributor
Dr. Sylvia R. Carey-Butler is Brown University's Vice President for Institutional Equity and Diversity. She began in July 2021. She previously served as Vice President and Chief Diversity Officer for Kennesaw State University where she was charged with developing a long-term diversity and inclusion action plan and led the phase I and phase II of the Presidential Task Force on Race. She co-designed the diversity and inclusion curriculum for the American Council on Education's Fellows program, was named to the Top 100 Diversity Officers by the National Diversity Council in 2021, and was honored as one of 35 outstanding women in higher education in the U.S. by Diverse: Issues in Higher Education in 2020. At Brown University, Carey-Butler is charged with leading phase II of Brown University's Diversity Action Plan (DIAP II) coupled with oversight of The Brown Tougaloo Program, The Leadership Alliance, The Affirmative Action Plan, along with other key Diversity, Equity and Inclusion initiatives.
From 2013 to 2019, she served as assistant chancellor for academic support of inclusive excellence at the University of Wisconsin Oshkosh, where she was responsible for building collaborative partnerships across campus to create an equitable campus climate and inclusive learning environment.
 As the former interim executive director of the United Negro College Fund's (UNCF) Institute for Capacity Building and the inaugural director of UNCF's Enrollment Management Program, Carey-Butler has worked extensively with private HBCUs. She has also held numerous positions in higher education in New York state. Previously, she served as assistant provost and dean of honors at Dillard University in New Orleans and as associate dean of studies at Lafayette College in Easton, Pennsylvania.
In addition to her university leadership positions, Carey-Butler has researched and presented extensively on student recruitment and retention in higher education, African American women administrators in the academy and African American men in higher education. She is the former board chair of the City of Oshkosh's (Wisconsin) Area Community Food Pantry and the City of Oshkosh's Housing Authority. 
Carey-Butler earned a Ph.D. in higher education administration and policy from Vanderbilt University and a master's degree in social science from Binghamton University. A native of Schenectady, New York, she holds a bachelor's degree from the State University of New York at Oneonta.