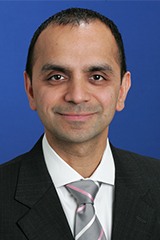 Sudhir Jain
Managing Director and Chief Operating Officer, Financial Institutions Group, Citigroup
Sudhir Jain is Managing Director and Chief Operating Officer of the Financial Institutions Group, a division of Corporate and Investment Banking at Citi that serves banks, asset managers and insurers, providing M&A, capital markets, transaction services and markets solutions. He is responsible for day-to-day business management of the global franchise, helping set overall growth strategy, allocate resources to clients, drive talent management, and make operational improvements. In 2016, Citi won the Euromoney Award for Excellence as the "World's Best Bank for Financial Institutions."
Previously, Jain was Chief Operating Officer of the Public Sector Group at Citi, which serves government clients and sovereign wealth funds. Jain also led the strategy team for the Institutional Clients Group where he helped grow and optimize businesses in fixed income, equities, research, alternative investments and private banking.
Prior to joining Citi, Jain was a Principal at Booz & Company where he advised clients in the financial services industry on strategy and transformation. He started his career developing fixed income and portfolio analytics at Reuters Analytics, and at Tiger Management, the second largest hedge fund in the world at the time.
Jain earned a bachelor's degree in electrical engineering from the Indian Institute of Technology, Kanpur, and an MBA in finance from Kansas State University, Manhattan. He serves on the Board of Directors for Accion East, an organization that fights poverty by providing micro-credit and financial education to low income business owners.