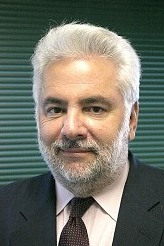 Russell Ricci
MD Director, Providence Economic Development Advisory Committee, Chair emeritus eHealth Initiative
Russell J. Ricci, MD, (Dr. Russ Ricci) chairs the Advisory Board for Meditech, a private healthcare information systems company and was previously the Chief Medical and Strategy officer for HealthSTAR Communications, a private company that is the nation's second largest healthcare marketing services company.
He was previously the general manager of IBM's Healthcare Industry, a multi-billion dollar global business unit. Dr. Ricci provided leadership to a diverse IBM team delivering information technology solutions to payors, providers and pharmaceutical companies. In addition, Dr. Ricci was responsible for the marketing and strategy for IBM's healthcare industry. Under Dr. Ricci's direction, IBM healthcare focused on industry transformation and the implementation of e- business solutions.
Dr. Ricci is also the chair emeritus and past president of the e Health Initiative, a membership organization comprised of more than 100 leading health care organizations that was created to provide a unified voice for the health care industry on information technology-related issues. With a mission to improve the quality, safety, and efficiency of the health care system through the use of information technology, its members represent many of the stakeholders in the health care industry, including technology organizations, health systems, health care providers, pharmaceutical and medical device manufacturers, service providers, nonprofit organizations and trade associations, governmental and research institutions. He is also past Vice Chair of Connecting for Health, a not for profit organization funded by the Markle and Robert Wood Johnson Foundations.
Prior to joining IBM in 1996, Dr. Ricci was president of the New Health Ventures at Blue Cross and Blue Shield of Massachusetts where he led corporate venture capital and new technology initiatives. While at New Health Ventures, he was responsible for the successful development and deployment of several award-winning technologies, including: HealthNavigator, labeled by the press as the nation's first healthcare ATM; Account Link, an automated health plan enrollment system; and HealthWire, a real-time system deployed in 7,000 doctor's offices throughout the state to streamline clinical, financial and administrative indemnity and managed care processes for providers and patients.
Dr. Ricci also has extensive experience in working with emerging technology companies including as a Director at DailyRX and RxWiki and with American Health Capital and Voluntary Hospitals of America (VHA), where he provided leadership to several of the VHA's ambulatory services companies in psychiatry, home healthcare, mobile diagnostics, and physician services. Prior to his tenure at the VHA, Dr. Ricci held a number of executive and clinical positions with other organizations.
Dr. Ricci received his medical training in child psychiatry at Harvard University and is a former associate chairman and assistant clinical professor at Boston University School of Medicine.