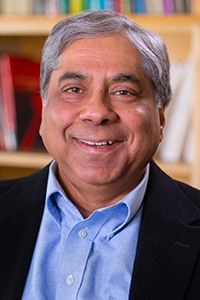 Rajiv Vohra
Ford Foundation Professor of Economics
Rajiv Vohra's work straddles game theory and the economics of resource allocation. He introduces students to game theoretic analysis of coalitions in various contexts, such as the formation of cartels and cooperative agreements, and the efficient allocation of resources through regulation. His students develop strategic thinking skills as they apply these analytical approaches.
Vohra is the Ford Foundation Professor of Economics. His theoretical work has served as the conceptual foundation for developing policy in many areas of practical importance, including the regulation of public utilities and the formation of cooperative agreements on pollution control. In his 30 years at Brown, Vohra served as chair of the Department of Economics and dean of the faculty, and his research has been funded by the National Science Foundation. Previously Vohra was a Fulbright Scholar at the Indian Statistical Institute and the Morgenstern Visiting Professor of Economic Theory at New York University. He has served on editorial boards of the International Journal of Game Theory, Journal of Mathematical Economics, and Journal of Public Economic Theory. Vohra was recently elected to the Council of the Game Theory Society.
Vohra earned a PhD in Economics from Johns Hopkins University and an MA in Economics from Delhi School of Economics.