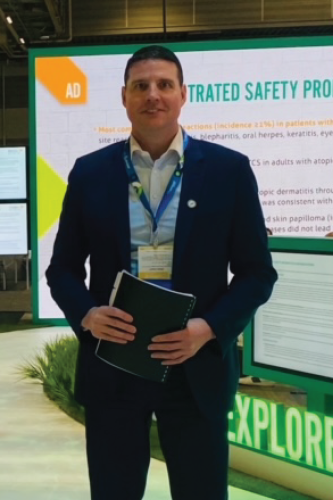 Paul Fletcher '21
Head of Marketing, New Dermatology Indications
Why did you choose this Master's program?
I reviewed numerous Master's Programs, yet I was very intrigued by the outstanding quality of the faculty and worldwide reputation of Brown University. I believed it would be a privilege to study and graduate from such an esteemed institution.
What made Brown's program different from other programs you considered?
The Master of Science in Healthcare Leadership program offered a unique method of in-person and online sessions that met my needs. I travel extensively, yet I was able to make the most out of the class offerings. I was able to excel in my studies while also succeeding in my full-time work responsibilities
What did you enjoy most about your program?
The rigor of the program was appealing to me. The curriculum was very well rounded and taught by some of the world's leading experts. It was a privilege to study under their tutelage. I found my knowledge and overall confidence grew throughout the program and, this spilled over into my job performance. Within a year of graduation, I received a significant promotion that I attributed, in part, to my completion and graduation from such an extraordinary program.

What was your primary academic area of interest?
I enjoyed the Strategic Planning and Healthcare Marketing classes a great deal. These classes were most in alignment with my current career, yet they opened new avenues of thought I had not previously considered. In addition, the Finance class, while stretching me, also helped me advance in my current career.

What were your postgraduate goals?
General Manager for major affiliate operations
What did you like most about Providence?
The history of Providence is amazing. The Brown University campus is so historic. It was such an honor to graduate from Brown University. The incredible feeling of accomplishment I experienced while walking through the historic Van Wickle Gates upon graduation was something I will forever cherish.
What advice would you give to prospective applicants?
Take the time to review the MHL Program at Brown University. Once you decide to apply and, assuming acceptance, go forth. Make a total commitment to the program. Prepare for each week with enthusiasm. Try not to look too far ahead as it can appear daunting. Just take it one week at a time. Work within your groups to support and encourage each other. Keep your focus. You will find the time goes by rather quickly. Before you know it, you will be walking through the Van Wickle Gates and ready to further advance your lifelong journey. Trust me, an incredible experience awaits you at Brown University. Best wishes on your journey. Go Brown!