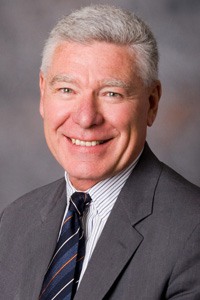 Jim Austin
Adjunct Assistant Professor of Leadership & Workforce Development
Jim Austin, a former senior executive at Baxter Healthcare, combines business strategy and organizational development theory with extensive industry experience.  His expertise is in working with senior management on strategic planning, organizational change, strategy execution, and new business growth. Jim's book, Leading Strategic Change in an Era of Healthcare Transformation, was published in July 2016 by Springer. Co-authored with two other Brown faculty members, it targets healthcare leaders trying to drive transformational change in their institutions.
As a faculty member for Duke CE, Jim delivered senior-level seminars on strategy, strategic execution, innovation, and decision making for a range of clients, including Sprint, BBA Aviation, Roche China, and JP Morgan Chase. Jim is also a lecturer/consultant at the Aresty Institute of Executive Education, Wharton Business School, where he tailored and delivered senior-level seminars on strategy, strategic execution, scenario planning, and critical thinking at a number of leading companies, including Boston Scientific, Coca-Cola, Lincoln Financial, GE, Boston Scientific, and Hitachi.
In 2013, Brown University appointed Jim a senior lecturer of healthcare leadership, heading a graduate Marketing & Management seminar. Additionally, Jim is a business management professor at the Lake Forest Graduate School of Management, where he received the "Most Distinguished Corporate Education Faculty Member" (2009–10) and the "Learning Excellence" (2012) awards.
From 2005–2016, Jim worked at Decision Strategies International, leaving as a senior principal. There, he led numerous projects, including scenarios of the future for a medical devices firm, R&D priorities for a major consumer products company, a strategic plan for the American College of Radiology, scenarios of the future for the League of Southeastern Credit Unions, and a new vision and strategic priorities for the national and IL Boards of Volunteers of America (VOA). He now heads his own firm, JH Austin Associates, Inc.
Prior to joining Decision Strategies, Jim spent 12 years at Baxter Healthcare, the last four as vice president of strategy development for the Renal Division.  At Baxter, Jim identified new business opportunities, facilitated annual strategy planning processes, and worked with senior management on organizational development for this rapidly growing, nearly $2B Division. Before that, Jim was assistant to the president for ANCHOR HMO, a subsidiary of Rush Medical Center, Chicago. Prior to his move to Chicago, Jim worked as a consultant for Arthur D. Little, Inc., where he led a number of large-scale planning, business development, and strategic positioning studies. Between college and graduate school, he spent four years as an economist/planning officer in the Ministry of Finance, Botswana.
Jim holds a BA in economics and politics from Yale University. He was a Special Student at the Massachusetts Institute of Technology in the Urban Studies Department, and received a joint Master of Public Affairs (MPA) and Master of Urban and Regional Planning (MURP) from the Woodrow Wilson School, Princeton University. Previously, Jim was chairman of the Strategic Leadership Forum, a board member of the National Kidney Foundation of Illinois, member of the Board of Directors for the University Club of Chicago, treasurer of LaSalle Language Academy, and member of the Admissions Committee for the Latin School of Chicago.