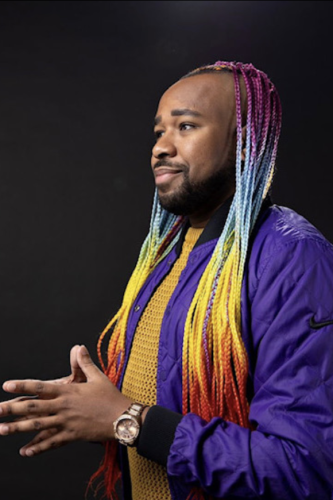 Jarvis Sam is Professor of the Practice at Brown's School of Professional Studies, the CEO and Founder of the multi-services Diversity Equity and Inclusion firm Rainbow Disruption, and the former Chief Diversity, Equity, and Inclusion Officer at Nike Inc. He was recently named Forbes 30 Under 30 in Sports class of 2021 as well as Portland Business Journal's 40 under 40.

In his previous role, he oversaw a team of people focused on driving diverse representation, inclusive leader and social justice education, professional development and the ecosystem of promoting and creating a culture of belonging inside and outside of Nike.

Prior to being named CDEIO at Nike, Jarvis held various roles focused on acquiring new talent capabilities for the company and driving large programs, partnerships and initiatives aimed at impacting representation and accelerating the flow of Nike's diverse talent pipelines. Jarvis collaborated closely with key stakeholders and partner organizations, internally and externally to facilitate and measure effective workplace diversity and inclusion models. Additionally, he led Nike's candidate experience and talent attraction/ employer branding efforts – driving best in class approaches and strategies to amplify the company's employment voice and obsess the candidate.

Jarvis frequently liaised with the sports marketing function and product teams to execute on key initiatives with signature Nike athletes like Serena Williams and League partners like the WNBA and NFL. Prior to Nike, Sam worked as the first Head of Diversity & Inclusion at Snap, Inc., (Snapchat) where he was accountable for building the company's first ever D&I strategy, establishing the first five employee resource groups, and rolling out the initial iteration of the global unconscious bias awareness and implicit association training all whilst driving key technology recruiting approaches to scale the company 6x through IPO. Before that, Sam worked at Google as a Diversity Program Manager and led part of the diversity recruitment practice.

Jarvis began his career as a strategy and operations consultant with Deloitte Consulting in Houston, primarily focused on clients in the oil & gas industry. Jarvis is a graduate of Rice University where he studied History, Public Policy, and Sport Management with emphasis in race and gender rhetoric. Jarvis received his MBA from Brown University and IE School of Business.

In his spare time, Jarvis does musical theater, most recently acting as Jimmy Early in a production of Dreamgirls. He loves concerts, film, sports, karaoke, and can be frequently seen doing a rendition of Tina Turner's greatest hits around Portland, OR, where he currently resides.