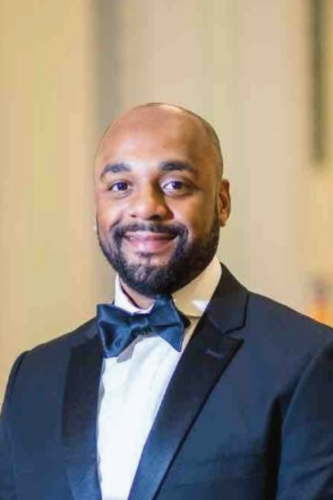 Jarrod Watson '23
Center Manager, Physical Therapist, Baylor Scott & White Institute for Rehabilitation
Why did you choose this Master's program?
I selected the MHL program due to wanting a change. I have made a promise to transition out of clinical practice after 15 years. The pandemic accelerated that desire. I chose to find my passion in other fields of healthcare, which started to strongly veer toward empowering and engaging in employee satisfaction, diversity platforms, lack of representation and equity in the healthcare fields.
What made Brown's program different from other programs you considered?
I chose Brown's MHL program over an MBA or other programs because it suited what I was looking for. It carries the weight of a prestigious university and network. It provides direct support to my career path, past and present and future. As well as its extensive, progressive format of being a forefront leader in many arenas. Not too many institutions can deliver a top notch experience, faculty, as well as the opportunity to embrace the progression that develops in New England and not be successful.
What did you enjoy most about your program?
What I love about my program is the opportunities and the ability to learn. I have learned so much new things. I feel like it has really embraced me to get to the next level, to be able to enter a room with confidence, to have camaraderie and network with my classmates and to bounce off ideas from the brightest individuals I've ever met.

What was your primary academic area of interest?
Enterprise level employee engagement, Diversity Equity and Inclusion.

What were your postgraduate goals?
I plan to interview and retain a competitive healthcare DEI a position that will elevate my leadership, decision making and influence on an organization's culture. I plan on continuing to work in the Maternal Maternity spaces for my CCP.
What did you like most about Providence?
Providence has a nice small city feel to it. It is progressive, it is rich in history, it is a place to eat a lot of food! I am the explorer of my class and I try to venture more into the city and college hill each session.
What advice would you give to prospective applicants?
Take the chance on being better than you were before you started.