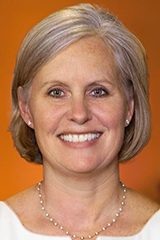 Jane Moran
Global CIO, Unilever
Jane Moran is CIO at Unilever where she leads the global IT organization, driving strategy, implementation and support for the internal and external business technology applications, platforms, networks and data centers.
Moran has over 25 years of IT experience and joined Unilever in 2014 from Thomson Reuters where she most recently held the role of Group CIO.  She joined Thomson Reuters in 2002 and served in a number of senior technology roles including CIO of the Markets Division, CIO of Thomson Financial, and CIO of CCBN (a Thomson acquisition).  Prior to Thomson Reuters, Moran consulted for a number of years on large-scale enterprise resource planning (ERP) and customer relationship management (CRM) system implementations, and provided IT portfolio management expertise to financial institutions.  She began her technology career as a developer, building financial portfolio management and trading software applications and platforms. In December 2014 Moran was named by Computer Weekly as the most influential person in IT in the United Kingdom.
Outside of Unilever, Moran holds a non-executive director position with JP Morgan Securities PLC.  In addition, she is a very active member of the global technology community.  She is an advisory board member of Brown University's Committee for Computer Science and Information Technology; an advisory board member for the Anita Borg Institute; and sits on the CIO Council for Salesforce.com, Workday and SAP. Moran earned her Bachelor's degree from Brown University and MBA from Boston University.