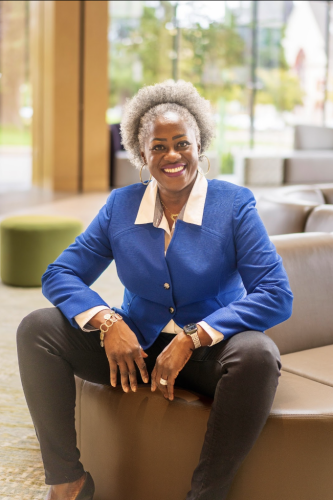 Jackie Ejuwa '17
Vice President, Health Transformation, Blue Shield of California
Why did you choose this Master's program?
I was looking for a program that would enable me to pivot my career from healthcare subject matter expert to a healthcare leader and executive who possesses a broad breadth of understanding of US healthcare issues, the stakeholders involved, and how to tackle them
What made Brown's program different from other programs you considered?
Brown's MHL program had the most comprehensive curriculum. In addition, each cohort included diverse healthcare leaders with real world experience from all areas of healthcare
What did you enjoy most about your program?
Learning about healthcare domains that I previously had no exposure to, from my peers and faculty, and getting to understand the bigger picture. The blended residential and online format, and the ability to immediately apply what I was learning at work.

What was your primary academic area of interest?
Healthcare policy

What were your postgraduate goals?
My post graduate goal was to advance professionally to executive and senior executive levels within the healthcare industry.
What did you like most about Providence?
It's a nice welcoming city, I've had the opportunity to return multiple times after graduation, as faculty within the MHL program and more recently as an Advisory Council member to the School of Professional Studies.
What advice would you give to prospective applicants?
Looking for a program to broaden your perspective and grow you as a leader in the healthcare space? Look no further!