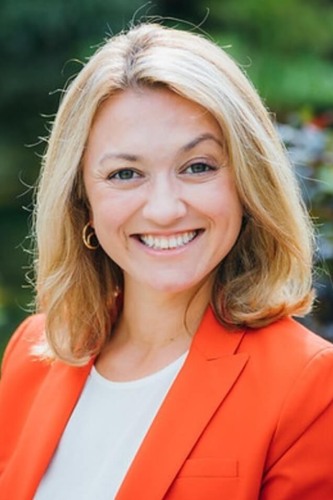 Irina Scarlete '18
Founder and CEO of AMNIe.org
North Vancouver, British Columbia, Canada
Irina has spent nearly 13 years in management consulting, strategy and operations. Irina showcased her experience while at Accenture by launching the Clean Innovation Community of Practice, and helping launch two strategy practices, multiple service lines and co-leading the Vancouver Innovation Team.

Now working as the CEO of AMNIe.org, she helps organizations establish sustainable end-to-end strategies and scale opportunities for impact across economic, environmental and social outcomes. Passionate about climate, international development and women's issues, Irina works extensively with entrepreneurs and intrapreneurs who focus on similar challenges and actions.
DESCRIBE YOUR EXPERIENCE IN THE IE BROWN EXECUTIVE MBA IN ONE WORD.
Regenerative.
IN WHAT WAYS DO YOU THINK THE IE BROWN EXECUTIVE MBA HAS CHANGED YOUR LIFE, PROFESSIONALLY AND PERSONALLY?
I enrolled in the program seeking the answer to how companies should operate at the intersection of business and society. At the time, my job within the strategy group of a large consulting firm was to understand the future of business and bring new services to the market. The program helped me realize the importance of asking the right questions, rather than focusing on point solutions. This altered both my professional and personal life path by better harmonizing how I think and act. I have become more intentional in my personal and professional interests and pursuits, seeking only to do business in companies that create a positive societal and environmental impact.
WHAT ADVICE WOULD YOU GIVE TO STUDENTS WHO ARE ABOUT TO START THE PROGRAM?
Be honest with yourself about why you are pursuing this program and what it is that you are looking to receive from it. With that clarity, you will likely achieve the desired outcome, even if your journey is unpredictable. Also, remember to be realistic with yourself, and others. There will be days full of gruelling hours, and moments when the program will challenge even the best time-management professionals. Accept support from your friends and family so that you can organize your life to allow you to make the most of the time and resources invested by everyone.
HOW DID YOU ACHIEVE A WORK-LIFE-STUDY BALANCE DURING THE IE BROWN EXECUTIVE MBA?
Honestly, I didn't. I crashed and burned during the first term. I eventually learned to form a routine and allocate time more efficiently. I also began to say "no" to more things that were not priorities at work. Surprisingly, this made my work more impactful—I had one of my best performance years. Since graduating, I have found that learning how to make mindful trade-offs, while not always perfect, helps me clear the noise and prioritize differently.
WHAT HAS BEEN YOUR FAVORITE MEMORY OF THE IE BROWN EXECUTIVE MBA SO FAR?
The residence period in South Africa, specifically when we were conducting research for a project in Langa. A single, working father of two young children stepped outside for a side conversation. We did not discuss our project, but instead he shared a few stories about life in the township and we exchanged ideas about resilience and people's ability to adapt to their environment. He explained how the town had self-organized out of necessity and abandonment, and how the community came together in times of need. It is both my favorite and most bittersweet memory as we eventually lost touch. Writing this story reminds me of my shortcomings, and yet, I may have not deemed it necessary to acknowledge them prior to the program. This is what has impressed me most about myself and what I have learned.
WHAT ARE THE RESIDENTIAL WEEKS LIKE? WHAT ARE THE ONLINE PERIODS LIKE?
The residential periods were intense in terms of readings, face-to-face classroom discussions and projects. After our long work days, the evenings led to exploring our new surroundings and immersing ourselves in culture, history, art and local attractions. The online periods allowed us to get back to our individual realities of daily work and life, while continuing to build on the connections we made during the residential periods. The digital nature of the program also helped ensure that the online periods were equally as engaging and interactive as the residential periods.
WHAT IS NETWORKING LIKE IN THE IE BROWN EXECUTIVE MBA?
The global reach of this program amplifies every year—the opportunity to develop far-reaching, close networks is a core element of what makes the IE Brown Executive MBA stand out. When a relatively small group of people is immersed in the culture and surroundings of three continents, it unlocks a trust and creativity that is often needed in enterprises. This program has led to various channels of open communication on a multitude of topics. Beyond the internal network, each university provides opportunities to liaise externally. The most valuable aspect of these connections has been the ongoing support and collaboration from a group of trusted experts who have become peers.
WHY DID YOU CHOOSE THE IE BROWN EXECUTIVE MBA?
The program represented what I believed to be missing in business education—a deeper understanding of the various factors that should be considered when formulating leadership decisions. At the time, there was no program like it available, and to my knowledge, there still isn't.
WHAT IS THE UNIQUE DIFFERENTIATION OF THIS PROGRAM?
The program enables students to develop ideas to ultimately connect business and society by creating projects that can be scaled and implemented. The residential period presents the opportunity to bring these projects to life, and later evolve with the intent of collectively solving global challenges in a specific region. In addition, the Key Reflection Project presents another opportunity to execute a real-world application of the insights and collaboration throughout the program, which for me resulted in the creation of my current company, AMNIe.org.
HOW DOES THE PROGRAM BRING TOGETHER BUSINESS AND HUMANITIES?
It offers both a traditional business education for those looking to understand the baseline of a business education, but also provides a foundation in the humanities as students develop their final project. This creates a group of more reflective leaders with a broad appreciation of how we got here and why, and what this means for enterprises going forward. This program builds the future of business.