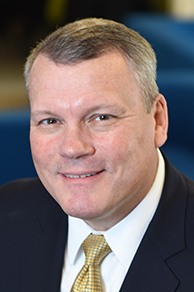 Edward Powers
National Managing Principal, Cyber Risk Services, Deloitte & Touche LLP
Ed is the National Market Offering Leader for Deloitte's Cyber Risk Services practice, which helps complex organizations establish and run Secure.Vigilant.Resilient.TM programs to achieve their strategic growth objectives in the face of increasingly sophisticated cyber threats. Under his leadership, our team of nearly 2,000 Cyber Risk Services professionals has been recognized by major analysts as the leader in cyber risk and security consulting, in size, vision, and overall capability.
In 2013, Ed oversaw the acquisition that formed Vigilant by Deloitte, an organization of more than 300 professionals specialized in direct threat research, analytics, and the application of threat intelligence to advanced monitoring and anomaly detection. Through the expansion of Deloitte's cyber resilience capability, he has also helped guide business recovery activities in the wake of several of the most high-profile cyber incidents that have impacted financial services, retail, government and entertainment organizations.
Over his 20+ year career, Ed has worked with many of the world's largest banks, payments companies, and insurance firms to help them transform their legacy technology-driven security programs into business-led programs that integrate strategic risk, regulatory, and technology components, and has worked with leading industry organizations to help improve the cyber risk posture of the financial sector broadly. In 2013, he led a team of Deloitte professionals who served as independent observers and co-authored, with the Securities Industry and Financial Markets Association (SIFMA), the after-action report on "Quantum Dawn II", an industry-wide exercise of more than 50 institutions, exchanges, regulators, law enforcement, and other government agencies to test the industry's resilience in the face of a systemic cyber attack on the US financial infrastructure.
Ed was formerly a faculty member in the Marshall School of Business at the University of Southern California, where he taught undergraduate and MBA courses in IT Management and Information Security. He has also authored several articles and appears regularly in the media on the business, economic, and societal dimensions of cyber risk. With a strong commitment to supporting innovation and efforts to address the global talent shortage in cybersecurity, he has been an active supporter of cyber education and development programs, including the joint development of a crowdsourced cybersecurity innovation competition with the XPrize Foundation and executive sponsorship of the Deloitte Foundation Cyber Threat Competition.