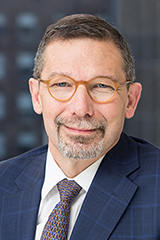 Cliff Dutton
Chief Innovation Officer, Epiq
Cliff Dutton leads Epiq's product and innovation strategies.  Epiq is a global provider of legal services that partners with firms, corporations, financial institutions, and government agencies to streamline the administration of business operations, class action and mass tort, court reporting, eDiscovery, regulatory, compliance, restructuring and bankruptcy matters.
Prior to joining Epiq in 2017, Dutton served as Senior Vice President, Director of Strategies and Director of eDiscovery at American International Group, Inc. (AIG), where he led transformational change in the legal operations center, focusing on legal vendor management, electronic discovery process innovation, alternative dispute resolution, and alternative fee arrangements in support of both AIG corporate matters and AIG's clients.
Dutton graduated with honors from Brown University and earned a degree in cognitive science.   He is named inventor on four issued US Patents and has served on both public and private company boards. A recognized expert in electronic discovery, he has also served as a consulting and testifying expert in United States Federal Courts. Dutton has served as a Critical Challenge Project panelist and evaluator for the Executive Master in Science and Technology Program and has been a longtime collaborator and thought-partner of the program.