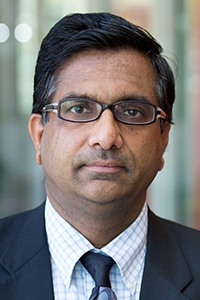 Anubhav Tripathi
Executive Academic Director, ScM in Technology Leadership, Professor of Engineering, Professor of Molecular Pharmacology, Physiology and Biotechnology, Director of Biomedical Engineering
Anubhav Tripathi ensures the quality and relevance of the ScM in Technology Leadership program for a transformative experience for the students. He guides the faculty, oversees student selection and the Critical Challenge Projects, and directs program evaluation and continuous improvement.
At Brown, Tripathi's research group develops new pathogen diagnostic platforms by integrating biological and engineering principles. This work has a broad impact on scientists, engineers, physicians, and entrepreneurs. He holds many patents, has over 100 peer-reviewed publications, and delivered more than 50 invited talks. He is a Fellow of the American Institute of Medical and Biological Engineering. Prior to Brown, Tripathi led the development of microfluidics chips for protein and DNA sizing at Caliper LifeSciences (now Perkin Elmer). This technology is sold in over one million chips a year.
Tripathi earned a PhD in Chemical Engineering from City University of New York and was a Post-doctoral Fellow at Massachusetts Institute of Technology.