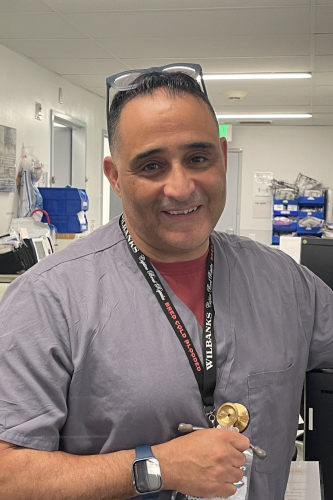 Aldo Gomez '23
Associate Clinical Professor of Medicine for Family and Community Medicine, Physician Assistant, San Francisco General Urgent Care
Why did you choose this Master's program?
During the peak of the Covid-19 pandemic, I witnessed how unhoused and low-income patients suffered due to limited healthcare access. I wanted to find a solution for that not only during the pandemic but, long after the crisis. I choose Brown's MHL for its deep dive into diversity and world-class instruction by individuals in all fields of healthcare and business platforms.
What made Brown's program different from other programs you considered?
Brown's MHL program stood out because it emphasizes interdisciplinarity, experiential learning, and individualized attention, preparing students to be effective and compassionate leaders in the healthcare industry.
What did you enjoy most about your program?
My classmates and the ability to learn how others traversed a particular problem you may not have considered. Brown's professors provided a real-world experience that matters once leaving the academic environment.
What was your primary academic area of interest?
My area of interest focused on confronting the Social Determinant of Health (SDOH), increasing healthcare for the unhoused, and providing novel solutions that meet the patient's needs.
What were your postgraduate goals?
With this knowledge I've gained at Brown, I hope to see myself as director of street medicine for the Depart of Public Health (DPH), in San Francisco.
What did you like most about Providence?
The history, the food, and the connections I have made with my classmates.
What advice would you give to prospective applicants?
Have support from your family. You will often be up late and unable to help around the house. Have the courage to invest in what you think healthcare needs to be sustainable now and in the future.