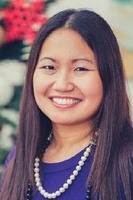 Stella Nguyen '20
Director of Workforce QA, Workday
Why did you choose the Executive Master in Science and Technology program?
I chose Brown's program because of the interdisciplinary nature of the program and its emphasis on science and technology. The program has also enabled me to work full time and provided the flexibility that I need as a working mom. After meeting with an alumna and hearing about her experience, I decided to apply.
What makes Brown's program different from other programs you considered?
I was drawn by the program because it blended residential and online learning components—including the international residential component. I wanted to be able to interact with my classmates and professors in both ways. I was excited about the international exposure since I felt a global mindset was important. These were the factors that made the program different from other programs that I considered. 
What do you enjoy most about your program?
I enjoy how knowledgeable the professors are and the insights they provide in both our residential sessions and online discussions. I also enjoy getting to collaborate with my classmates as we work on projects together, especially in the Finance and Business Strategy for Technical Managers course.
What is your primary academic area of interest?
I'm interested in Quality Management in software, since my career is in this area, and how I can grow as a leader. 
What are your postgraduate goals?
I want to use the knowledge that I've gained through this program to help my current organization find strategies on how we can transform and scale.
What do you like most about Providence?
I like the variety of great food in Providence! Providence also has a small town charm that's unique for a state capital. 
What advice would you give to prospective applicants?
With the Brown EMSTL program—you get as much out of it as you put into it. So, make the most of the application journey by getting to know alumni, faculty and the program director to see if this is a good fit for your goals.