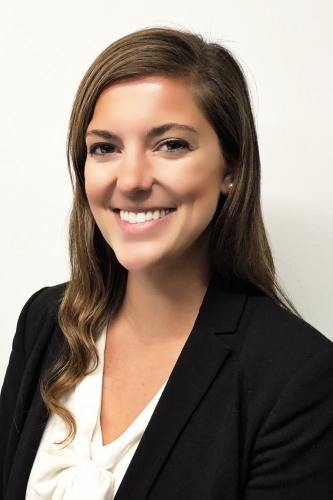 Gloria Maciorowski '19
Senior Consultant, GE Healthcare Partners
Why did you choose the Executive Master of Healthcare Leadership program?
I found out about the Brown University EMHL program at a pivotal time in my career, and my decision was initially driven by the structure and content of the program. The executive format allowed me to accelerate my industry knowledge while directly applying my classroom learning to my work as a healthcare consultant.

What makes Brown's program different from other programs you considered?
The School of Professional Studies made an Ivy League education accessible to working professionals. The acclaimed faculty, academic rigor and sense of community was unmatched by other programs I considered. It made the decision easy!
What did you enjoy most about your program?
I did not anticipate the value of the relationships that I would come to build with my cohort at Brown. My EMHL classmates became a trusted professional network, an academic support system, and close personal friends. I'm beyond lucky to have each one of them in my life—in fact, we still talk as a group nearly every day!

What was your primary academic area of interest?
I work as a healthcare consultant, providing advanced analytics and advisory services to hospital executives seeking answers to critical problems within their operations and overall strategy. The accumulation of industry knowledge from the EMHL program, through both classroom lectures and experience from my own peers, provided a tremendous amount of color to the unique complexities within the healthcare field, and has helped to shape the way I develop and implement solutions with my clients.
What were your postgraduate goals?
Upon completion of the Brown EMHL program, I moved from a position in a boutique consulting firm to a consultant with GE Healthcare Partners, where I lead strategic performance relationships that drive value for our hospital clients through operational gains, cost reduction, and return on invested capital. I hope to continue gaining exposure in healthcare client services before pivoting to the health tech/start-up space.
What did you like most about Providence?
Providence is an incredibly vibrant and deeply historic town that I loved coming back to each residential session. The best conversations always seemed to trail from the classroom to the lively restaurants and bars downtown. We had expert organizers in our cohort who never missed a chance to explore the area and host gatherings and events for birthdays, weddings, and anything worth celebrating!
What advice would you give to prospective applicants?
Among all of the responsibilities that one has to juggle on a daily basis, adding a master's program might be seemingly impossible. But the decision to invest in myself has already manifested its returns in ways I never anticipated, from the devoted and ever-supportive network of peers I gained, to the career change I made as a result of the program. The tangible and intangible skills I developed during the EMHL program has accelerated my confidence and ability as leader. Believe me, it's worth it.